Translated into Spanish, Corona del Mar means "Crown of the Sea." Situated along the California coast, an hour's drive south of Los Angeles, it's a moniker the beachside community of roughly 15,000 residents wears well.

Offering one of Orange County's most spectacular and unique seaside experiences, it can also prove a bit of an adjustment for those new transplants not accustomed to California coastal living.

It's a transition, though, that is well worth it. Typically, when people move here, they tend to stay awhile. So if your future involves a primary residence or second home in this oceanfront gem, here's what to expect when moving to Corona del Mar.
A Unique Address
Although you'll get an address that states Corona del Mar as the destination, the area is a community within the larger city of Newport Beach. A city within a city, if you will.

Primarily residential, Corona del Mar features its own ecosystem of neighborhoods and housing. Nearly 20 residential enclaves in all, each offer a style and livability all their own.

Considering the choices, there's ample luxury to go around. A unique blend of coastal urban and suburban lifestyles, when choosing where in Corona del Mar to purchase, take your time—and plenty of tours.

While living on the beach is the pinnacle for many homeowners, it's not for everyone. Thankfully, the community features plenty of choices fit for any lifestyle.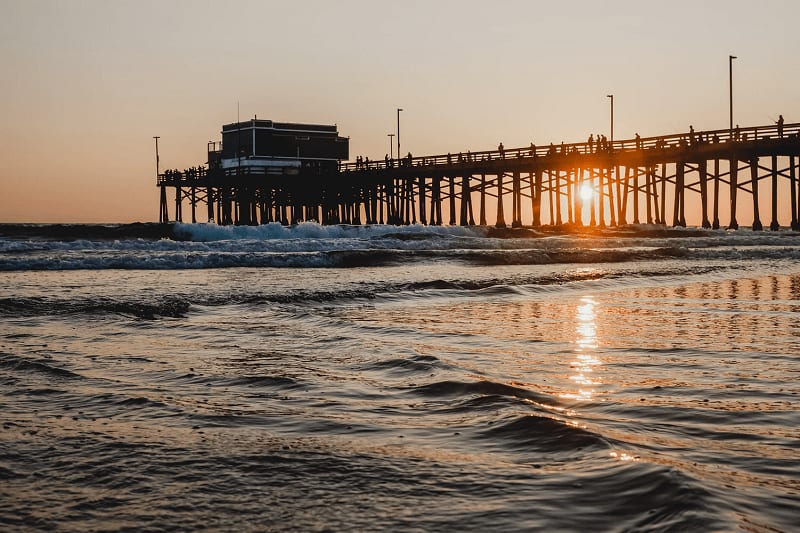 Luxury at Every Price Point
Yes, living along the coast in Orange County is expensive. But let's be honest, if you're reading this, you probably demand a certain spectacular out of your housing and don't balk at what it takes to get it—whether it's your primary home or a vacation playground.

For those with deep pockets and a grand sense of style, head for the beach. Oceanfront property in Corona del Mar starts at $20 million and works its way up from there.

Those who don't require the beach as their backyard will enjoy neighborhoods such as Cameo Shores, which offer property prices between $7 million and $15 million.

However, there are several standout residences throughout Corona del Mar that check-in under $5 million. They include stylish bungalows within walking distance to the beach, charming renovations that offer easy access to the Pacific Coast Highway, and new construction stunners nearby the vaunted Harbor View Elementary, one of the best such schools in the region.

Ultimately, whatever your definition of luxury and the price you're willing to pay for it, you can find an ideal home in Corona del Mar.
Must Love the Outdoors
Okay, it's not an absolute prerequisite for living in this part of Orange County, but if you don't at least appreciate a life lived outside your stunning abode, you might want to invest your dollars someplace else.
Corona del Mar is an outdoor lover's dream neighborhood. Of course, there are the beaches—five to be exact. The cozy duo of China Cove and Pirates Cove is located on the north end of Corona's shoreline. To the south, there's Little Corona del Mar Beach, popular with scuba divers and snorkelers, and Cameo Shores Beach, which is excellent for walking and bird watching at low tide.

The showstopper is Corona del Mar State Beach, which welcomes surfers and bodysurfers alike, sunbathers, swimmers, snorkelers, and volleyballers.

Corona del Mar, though, offers more than sandy shores. A portion of the Buck Gully Reserve reaches into the community and offers gorgeous hiking opportunities. Jasmine View Park provides stunning ocean views in a serene setting. Hidden gems Little Treasure Cove in the extreme south of the neighborhood, the family-friendly Irvine Terrace Park in the extreme northwest, and San Miguel and Spyglass Hill Parks in the extreme northeast are local favorites.

And let's not forget the boating enthusiasts. Corona del Mar is home to the Bahia Corinthian Yacht Club, the Balboa Yacht Club, and the Newport Beach Yacht Club just across the neighborhood's northern border. Of course, if you're so inclined, you can purchase a home with a private boat slip.
A Relaxed Lifestyle
As one might expect tucked in along the Pacific Ocean, Corona del Mar's lifestyle is extremely laid-back. In fact, for those coming from the hustle of larger metropolises, it can be a culture shock.

Perhaps the best way to acclimate yourself is to go with the flow—enjoy the chic and eclectic dining scene, partake in the retail therapy of boutique stores and charming shops along the Pacific Coast Highway, or bask in the near-perfect year-round weather while appreciating the sense of community from Corona del Mar's active social calendar.

Ready to explore the best of coastal California real estate? Contact Mary Golding today to start your home buying journey. From Newport Beach real estate to Corona del Mar homes for sale, allow Mary and her team's years of experience and expertise to be your guide to the Orange County luxury real estate market.